Do you have cartographic curiosities? Is 'folding maps' what you say is your weakness at job interviews? Remember the days before smart phones when people actually used paper maps? How delightfully retro.
Aw12 saw us go out of this world with the intergalactic space trend. This season we are on terra firma, covering serious ground with map print. Here are our faves:
Going swimmingly

Try and wear this cozzie poolside in every country. Then stick a pin in it. Don't. This is too good to chlorine damage, we'll be wearing it with jeans.
Time traveller
We are madly in love with this watch. Its vintage look makes us think it should have something disgustingly romantic etched on the back like 'You are my world' or 'Wherever I go you are always in my heart' *I should totes work for Clintons*. This watch is on our shopping list. Along with something sharp to do some etching. And plasters.
Urban Outfitters Globe Face Leather Watch, £26 
Travel bag

Inspired by trinket boxes from the Georgian era this clutch features an antique map of London which shows all the places we have gone to try and flog our kidneys to get the £795 needed to have this in our lives.
 Anya Hindmarch Duke London box clutch, £795
Change of a dress

Audrey Hepburn once said "Paris is always a good idea". Carven obviously agree and have done more map print pieces this SS. This time they have gone all Parisian chic with this enchanting printed cotton Paris map dress. It certainly has a charming je ne sais quoi.
Carven printed cotton Paris Dress, £400
Tourist spot
Perennial tourist favourite. This is the bag to carry when doing your best 'Mind the gap' posh voiced impersonations as you get lost on the tube.
Harrods Knightsbridge Map Shopper, £16.95
Knapsack on my back…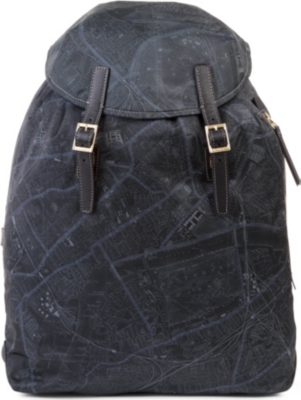 Fancy carrying the world upon your shoulders? No, maybe just start with London. Paul Smith is turning us into snails with this backpack as we carry our homes on our backs.
Paul Smith London Panorama Backpack, £295
 Around the world
Here is the swish payday version of a map print scarf that's not to be walked all over.
Acne Columbus Silk Cotton Print Scarf, £170
The world on my shoulders
And here is the more affordable Topshop version that you don't have to worry quite so much about getting lost.
With a forward by Paul Smith this map charts London's most influential fashion spots from 1950-2000. Never mind trying to fold this one, it's so beautifully illustrated it should be framed.
Herb Lester 'The Look of London' Map, £4
And finally, here's how you can REALLY nail the map look: